2023 Mazda CX-50 Near Oklahoma City

2023 Mazda CX-50 at Bob Moore Mazda
Bob Moore Mazda is awaiting the exciting arrival of the all-new Mazda CX-50 in light of its recent unveiling. Mazda adds to its selection of the compact crossover segment with a more rugged version of the well-known and current CX-5, which is part of the same segment. With recent high sales among competitors in the compact crossover class, Mazda sees an opportunity with adding new and exciting features to a currently popular model. While the CX-50 will initially begin as a traditional gas-powered vehicle, the automaker possibly looks head to hybrid models at some point after its initial release. Driving through the roads of Oklahoma look to be a bit easier with its many extra features including off-road elements, so city-goers from Downtown Oklahoma City through Norman, Edmond, Moore, and all the way to Tulsa can ride with newfound ease.
Top Features of The 2023 Mazda CX-50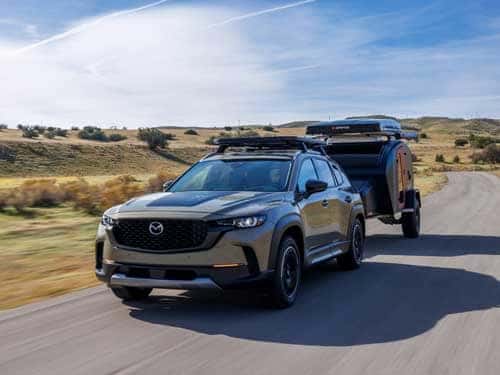 Powerful Enough To Tow
With a maximum available towing capacity of 3,500 pounds, you can bring everything from boats to trailers along for your trip. This makes the CX-50 the perfect vehicle for a weekend getaway with the family, or for when you need to quickly move larger items.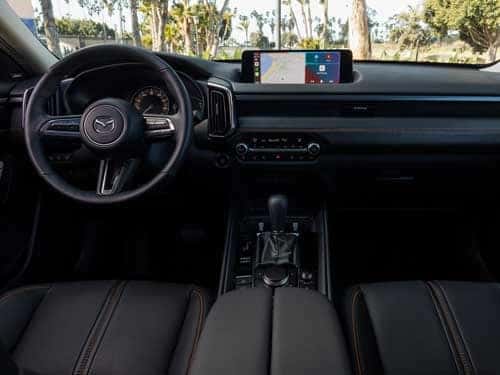 Roadside Assistance
When you're in trouble on the side of the road, you can count on the built-in roadside assistance afforded to the Mazda CX-50. This feature turns what would otherwise be a highly stressful situation into a manageable detour.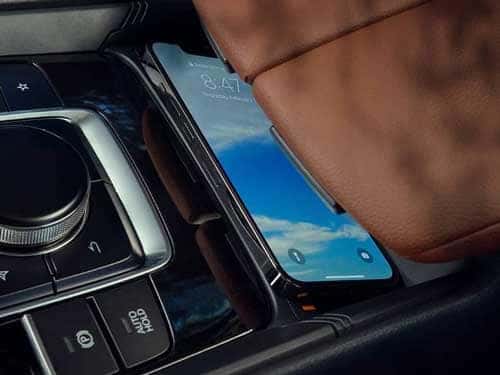 Your Wireless Charging Pad
This available feature allows you to throw your phone down and watch as it charges back to full without the help of any cables. This helps to keep your cabin sleek and clean, as you won't have to worry about any wires tangling in the front.
Adding to a Popular Model
It's hardly a surprise that Mazda gives the CX-5 a more rugged version within the CX-50, as they have done this with other models such as the substantially smaller CX-30 derived from the CX-3. Also, in a similar fashion to the CX-3, the CX-5 may outright be replaced by the CX-50 although the two models will be sold side-by-side for the foreseeable future. Mazda wants the best of both worlds for all of its drivers, a modestly sized vehicle with good fuel economy, but maintaining the utmost luxury of interiors and providing an all-around energetic drive. The new CX-50 will hopefully prove to be as comfortable as the CX-5, but with the added bonus of being more capable than its predecessor.
Substantial Upgrades
Notably, new features of the Mazda CX-50 are in no way unnoticeable, as it starts with a CX-5 and only goes up from there. The overall styling of the vehicle screams to be taken off paved roads, with the addition of black plastic coverings along the wheels, base, and the redesigned front and back end. Much like the signature look of many other crossovers, the Mazda adds in a beefed-up front and rear bumper including a new series of headlights, air vents, and more. Cosmetically, the vehicle comes available in more earth-based colors such as its signature "Zircon Sand," as well as beefy crossbars, hood graphics, and available tires meant for a variety of terrains.
Perfect for Those Rough Roads
While the vehicle operates with a similar 187 or 250 horsepower engine as the CX-5, a few modifications give it a bright future as an all-terrain vehicle. The Cx-50 takes on higher overall ground clearance, standard all-wheel drive, and even selectable drive modes depending on terrain, road condition, and location. Along with exciting off-road features that will surely make the CX-50 a delight, it's expected that it will follow the trend of modern Mazda vehicles in that the interior will display an exciting level of sophistication. Likely available in premium upholstery materials, the CX-50 is slightly longer than the CX-5, adding a touch more space for the rear row of seats.
Boundless Technology
With the technology afforded to the brand-new Mazda CX-50, you'll have everything you could possibly need on the road. You can expect fun features like the available 12-speaker Bose audio system, which can transform your playlist by giving you a concert-like performance. You'll also be able to use the MyMazda app, which completely transforms how you interact with your vehicle. When you're trying to warm your engine up before you head to work, you can use the remote start function to make sure it's ready without even hopping into the driver's seat. You can also easily find your vehicle, check on your oil, and more. When it comes to connectivity, the CX-50 offers a vast amount of features.
Impeccable Safety
SUVs are known for being the ideal family vehicle, as they offer all the space you could need. When you want to make sure that your loved ones are safe, you're going to need a vehicle that offers all the latest safety features. The 2023 CX-50 comes equipped with valuable systems like Blind Spot Monitoring, which comes standard, and makes sure that you have the proper information you need before you decide to switch lanes or merge. Other features like the Lane Departure Warning System can give you audio and visual warnings so that you know when you begin to drift outside of the lines. These are only a few of the features afforded to this stunning model, so when you value safety, you're going to want to count on the CX-50.
Extra Comforts
This model truly has a lot to offer, and when it comes to cutting-edge technology, it's simply unmatched. With the Adaptive Front-Lighting System, your vehicle's LED lights will actually pivot toward the direction your currently turning, so that you have the most visibility possible. This gives you the confidence that you need to drive late at night and looks stunning as well. You'll also find features like the available Active Driving Display, which can display important information directly onto your windshield. This keeps you from having to take your eyes off the road in order to view your current speed, the speed limit, and more. When you want a vehicle that's as innovative as it is practical, the CX-50 is a strong contender.
When you want to finance the brand new Mazda CX-50, you're going to want to visit Bob Moore Mazda, where you start ahead of time by filling out an online application.