2023 Mazda CX-5 vs. CR-V vs. RAV4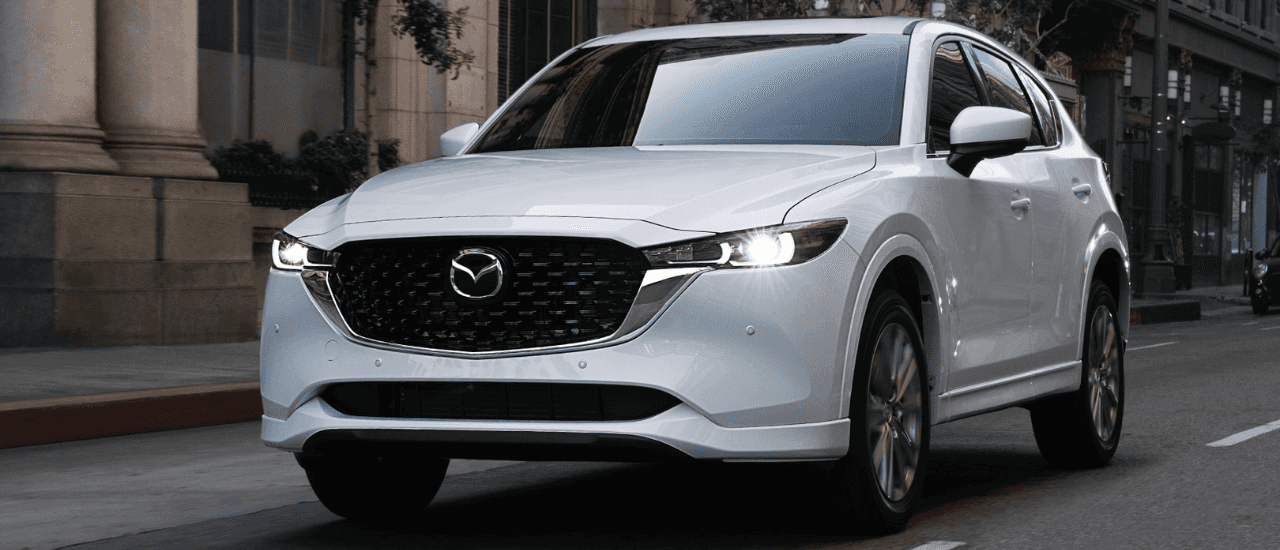 2023 Mazda CX-5 at Bob Moore Mazda in Oklahoma City
Drivers seeking adventure have a wide selection of crossover SUVs in today's market. Most manufacturers have their take on the crossover SUV with different standard features, capacities, and overall performance. Three crossover SUV models float to the top of the crowded market: the Mazda CX-5, Honda CR-V, and RAV4. The modern and exciting CX-5 offers an impressive package of standard features that the Honda CR-V and RAV4 don't provide. Even more impressive, the CX-5 comes in at a lower average MSRP, $27,975, than the Honda CR-V ($32,355) and Toyota RAV4 ($28,910).
Value on Every Level
If you're looking for a more modern and stylish ride, the CX-5 presents a beautiful exterior style and an interior comparable to a luxury SUV interior. Mazda offers the CX-5 in eight trim levels compared to four for the CR-V and six for the RAV4. Still, even in the standard base level option, the CX-5 has driver assist features, a larger infotainment display, and a more exciting driving experience that the CR-V or RAV4 don't offer in their standard trims options.
On the Inside
When comparing interior styling, the Mazda CX-5 is genuinely unmatched by competitors. Higher trim levels of the CX-5 are regularly compared to that of a luxury SUV. The Mazda CX-5 edges out the Honda and Toyota models with its display screen, offering drivers a 10.5-inch display screen compared to the 8-inch (RAV4) and 7-inch (CR-V) screens. The CX-5 and CR-V offer a folding second row that the standard RAV4 does not provide.
The Honda CR-V and Toyota RAV4 may have larger engines, but they can't match the enjoyable ride that Mazda CX-5 offers to drivers in both cities and highways. Under the hood, the CX-5 boasts a standard 187-hp, four-cylinder engine with an impressive throttle response time. For fuel efficiency, the CR-V and RAV4 slightly edge out the CX-5, offering a combined MPG of 30 compared to the CX-5's 26 MPG.
The Deciding Factors
When making the final decision on your next vehicle, many variables can determine your final choice. The most significant factor that most drivers consider is the price tag. The Mazda CX-5 has a lower average price than the Honda CR-V and Toyota RAV4 and offers excellent value with its standard features compared to the others. The CX-5 offers a more extensive selection of trim levels at a lower price than the competition's higher trims. If you want to match these features in competitor models, moving up in trim levels is your only option, which will increase the price tag of the CR-V or RAV4. Check out the breakdown of trim levels below:
| | | |
| --- | --- | --- |
| Mazda CX-5 | Toyota RAV4 | Honda CR-V |
| Base – $27,975 MSRP | LE – $28,910 MSRP | EX – $32,355 MSRP |
| Select – $29.775 MSRP | XLE – $30,420 MSRP | Sport Hybrid – $33,695 MSRP |
| Preferred – $31,465 MSRP | XLE Premium – $33,310 MSRP | EX-L – $35,005 MSRP |
| Carbon Edition – $32,375 MSRP | Adventure – $35,605 MSRP | Sport Touring Hybrid – $39,845 MSRP |
| Premium – $34,275 MSRP | Limited – $37,215 MSRP | |
| Premium Plus – $36,775 MSRP | TRD Off Road – $38,530 MSRP | |
| Turbo – $38,125 MSRP | | |
| Turbo Signature – $40,925 MSRP | | |
Schedule a Test Drive at Bob Moore Mazda
If you're interested in seeing the Mazda CX-5, we have a wide range of trim levels, colors, and specials at Bob Moore Mazda. Take the CX-5 out for a test drive to see if it fits your driving style and, more importantly, your budget. Schedule your test drive today at Bob Moore Mazda in Oklahoma City.